WELCOME ADDRESS BY THE PROVOST KWARA STATE COLLEGE OF EDUCATION, ILORIN DR. YUSUF ABDULRAHEEM ON THE 18TH COMBINED CONVOCATION CEREMONIES ON THE 13TH FEBRUARY, 2019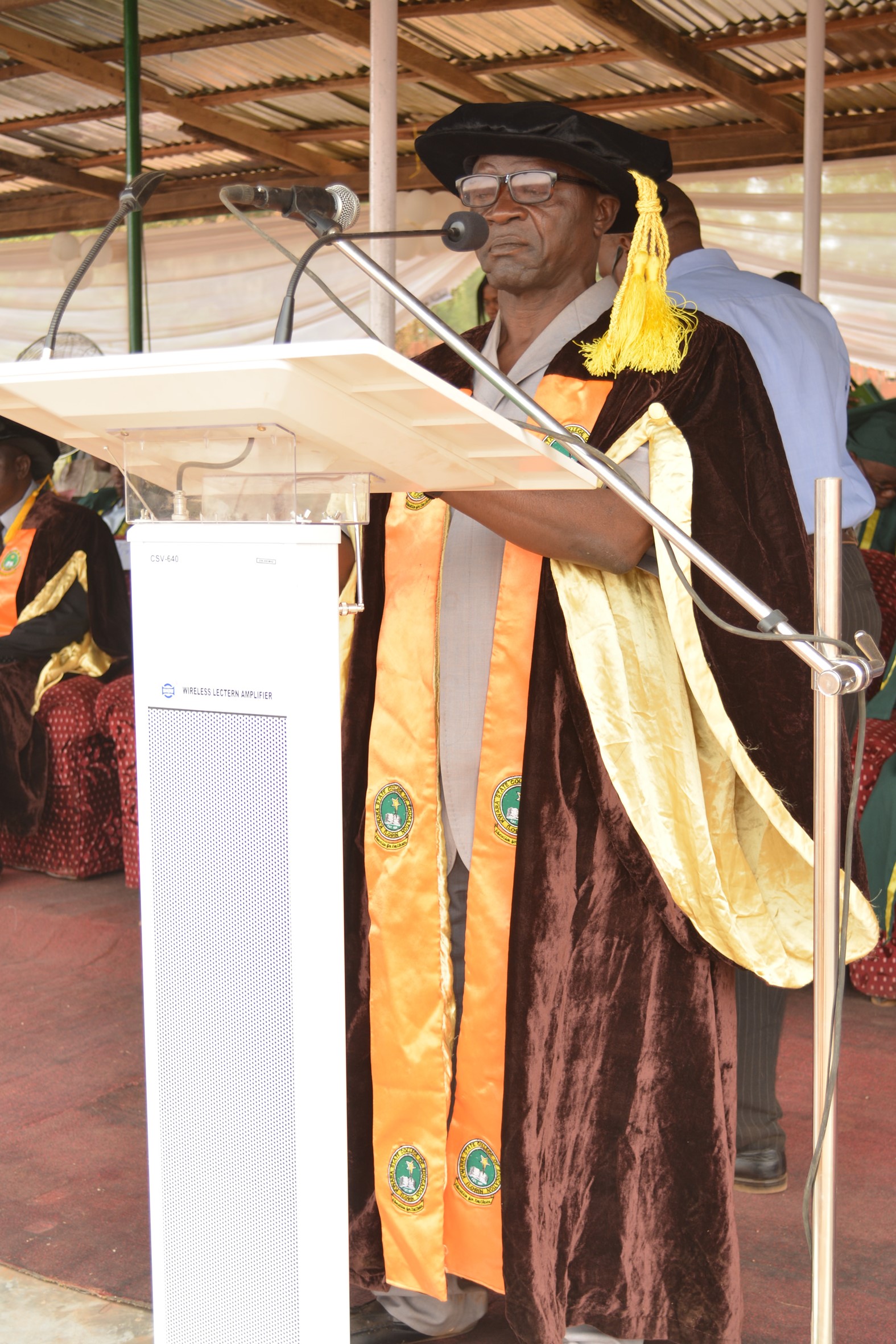 The Visitor, His Excellency, Alhaji (Dr) AbdulFatah Ahmed
The Executive Governor of Kwara State,
His Royal Highness, The Emir of Ilorin,
Alhaji (Dr) Ibrahim Sulu Gambari
And Other Royal Fathers present
Hon. Commissioner for Tertiary Education, Science and Technology,
Barrister Abdullahi Tajudeen Alikinla
Members of the State Executive Council Present
Permanent Secretaries
Members of the State House of Assembly
Chairman, Governing Council,
My Lords Spiritual and Temporal
Alhaji Abdulraheem Aremu Olota
Special Guest of Honour,
Prof. AbdulGaniyu Ambali
Convocation Lecturer, Prof. N. Y. S. Ijaiya
Members of the College Governing Councils
Principal Officers of the College,
Vice Chancellors of Universities,
Provosts of Sister Colleges of Education
Rectors of Polytechnics
Past Chairmen of Council
Past Provosts
Members of the College Academic Board
Staff and Students
Invited Guests
Media Men and Women
Ladies and  Gentlemen
In the name of Almighty Allah the creator of heaven and earth, I welcome all of you to the 18th combined convocation ceremony of this great citadel of learning. In the last two days, we have had series of activities. We thank Almighty Allah for His mercies on us for coming this far.  Today's convocation is unique in the history of this College for so many reasons. Firstly, it is a reactivation of one of the major events in an annual academic circle. The official enrolment of a student for the Nigeria Certificate in Education(NCE) starts with the matriculation after which such a student spend at least, three years in the College.
The successful completion of this journey is often celebrated with a convocation ceremony which officially certifies graduating students as holders of various certificates. The last of such a ceremony in this College was held in 1995 (about fourteen year ago). Thus, today's ceremony is not only epoch making but also very historic in the life of our great institution.
It is also a worthy historical event in the sense that, as part of the activities lined up for this ceremony, we have been able to gather, in large number, alumni of this College who having graduated from the College in different years past, to come together with the hope of giving back to and re-building the institution that has played major roles in their various fields of calling. With this singular event and with promises from these great men and women, who we are very proud of today, our vision of making this College a centre of academic excellence once again, is becoming a reality.
It is equally unique to note that this convocation ceremony is a fulfillment of our admistration's determination to place this College on a high platform in the comity of colleges of education globally.
Convocation is a thing of joys in many ways first to the graduating students who have looked forward to a day like this and secondly to the parents who have invested on their children. Therefore, to both the graduating students and their parents, I sincerely congratulate you for achieving this height. 
INHERITED CHALLENGES:
My assumption of office in May last year was greeted with various challenges ranging from natural to man-made. Probably because I was coming from a completely different environment, I was highly challenged, but I summoned the courage that with the help of God, support of the government and cooperation of members of the college community, we will overcome the challenges.
Salary Irregularity
One of the major problems I inherited was the irregular payment of salaries. Staff were not pleased with the epileptic nature of their salary. Consequently, this affected the morale of both the staff and students.
Promotion Problem
Closely related to this was the lack of financial backing for back-log of promotions. As at the time I assumed office, those who were promoted in 2014 and 2015 were yet to enjoy the financial benefits of such promotions. These, coupled with the problems earlier stated, affected the attitude of some College staff to work. Their lackadaisical attitude negatively affected their productivity thus bringing their output to the lowest ebb.
Dilapidated Buildings:-
Kwara State College of Education was established in 1974. Little wonder therefore that some of the buildings were in the state of near disrepair. The education complex now being used by the full-time students of Ekiti State University, Ado-Ekiti was one of the abandoned buildings as at the time I resumed office.
Land Encroachment:-
As at the time the founding fathers of this College sited it here, little did they know that expansion will catch-up with it in less than half of a century. The level of encroachment especially in the Western and Eastern ends of the College is alarming. People have stepped so much into the College land to the extent that some of the illegal occupants have their gate opened with the College.
ACHIEVEMENTS  
I give thanks to the Almighty Allah for the journey so far. Though, an herculean task, but with the help of Allah, the support from the State Government, well-meaning individuals, that of the management, staff and students, some degree of success have been achieved.
Restructuring of the College in line with NCCE
From three Schools that we had in 2018, the College has restructured the frontiers of learning and scholarship with the six Schools we have today. The regulatory National Commission for Colleges of Education (NCCE) fully accredited almost all our academic programmes, and in affiliation with Ekiti State University, the College has started full- time degree programmes in Education English, Social Studies, Biology, Chemistry, Early Childhood and French.
Restoration of Academic Activities
Academically, the College has improved with the quality and quantity of the research embarked upon by our lecturers. Three major College seminars on quality assurance, record keeping and supervision of teaching practice and four school seminars were held since my assumption in May 2018. Our students are now motivated to learn due to hard work on their part, the commitment of the lecturers to teaching and research and the conducive environment provided by the College. It is noteworthy that, our effort towards revamping the College has been well received from far and wide, most especially, by those that matter, mostly the staff and students. Just this morning, we observed that our ranking has also being recognized across the globe with the five-point leap of the college from an about 23th position some seven months ago to 17th position.
Prudent Management of the Lean Resources
Topmost on my agenda when I became the Provost of this College was staff welfare. To achieve this, we ensured blockage of leakages, and encouraged prudency and accountability. This has in no small way helped us to judiciously utilize our meagre Internally Generated Revenue (IGR) and State Government Intervention to pay staff salaries.
Positive Change of Staff Attitude
A leader who wants to succeed should lead by example. At the management level, we have decided to always get to office before 8.00hrs in the morning. As a result of this all other members of staff followed suit. Consequently, there is no time you get to any office in our College now that you will not be attended to. The same goes for our lecturers who now teach without missing classes. I thank you all for your understanding and cooperation.
Hostel Renovation:-
Student hostels were nothing to write home about as the time I resumed office. To tackle this ugly menace, we engaged developers on renovate/ build, operate and transfer basis. Work is ongoing in the hostels which will soon be available for the students' occupation.
Student Affairs
The first e-voting system was introduced in this College during the last Students' Union Election. Apart from this, the College has shifted from the old system where candidates were selected and imposed on the students. In the last election, the students had free, fair and credible elections from where they, on their own, chose their leaders.
Biological Garden
Records have it that sometimes between 2005-2006, a befitting Biological Garden was established to enhance learning and research.  As at the time we assumed office, the garden has become a ghost of itself. As I am speaking to you now the Biological Garden is fixed with different species of animals and the fish pond in the garden has being stocked with fish.
KWACOEDi Water Project
As part of our determination to reduce our reliance on financial interventions from the state government and increase on our internally generated revenue, the College in partnership with a cooperative society in the College (Ad-doman Cooperative Society) has commenced the production of table water. The project, which is aimed at providing portable water to the College community, will equally support the water needs of our host community. In addition to this, plans are in top gear to commence bread baking and block making from our bakery and block making industry.
After this programme, there will be commissioning of projects and Exhibition of students work at their various sites. The projects to be commissioned this year by the Visitor include the following:
KWACOEDi Water
Revived Biological Garden
Improved Ranking of the College in Sports
Just last week, first in the history of the School, our College emerged third in the just concluded NACEGA Games held in Obudu, Cross Rivers State.
Computer Literacy and Designation of the College as Google Ambassador Centre
To move the College to 21st Century institution of learning, the college has organized computer literacy programme in collaboration with Google. It is gratifying that the College has been enlisted as the second Google  Ambassador Centre in Kwara State.
HOPE FOR THE FUTURE
Your Excellency sir, Royal fathers, honourable guests, ladies and gentlemen, with the little  we  have done, and our determination to do more, we are hopeful that with the support of the state government, well-meaning individuals, the alumni association of this College, staff and students our developmental target will be met if we all play our roles well. By this epoch-making event- convocation ceremony, we have had the commitment of notable alumnus of the College to partner with the management to rebuild the institution that has made a very significant contribution to their career development. In addition to this, quite some well-meaning Nigerians both corporate, and private capacities have also joined in catapulting our dream of making the College, the centre of excellence of Kwara, a reality.
The State Government
Your Excellency sir, we appreciate your government's support aimed at living behind an enduring legacy in the area of education. However, we plead that the state government should immediately look into our dilapidated infrastructures and equally address regular release of intervention and the welfare of staff.
Sir, we use this medium to appeal to you to continue to support us with prompt release of our monthly intervention as at when due so that staff can take their salaries and allowances as at when due. We also plead that you should always come to our aid when we have academic related issues such as accreditation, verification etc.
Well- Meaning Individuals
I am sure that both within Ilorin and outside the state, there abound numerous well-wishers. Some of them are here today. I will not mention names because of the constraint of time. We however plead to you to come to the aid of this College so as to bring it back to her past glorious days.
The Alumni
The "College of Education, Ilorin day" that took place yesterday themed "Rebuilding Kwara State College of Education, Ilorin for the future" was planned to bring together old students of this great College with a view to make the College great again. For those who donated and those who promised to donate to the development of the College we say (Merci boucoup) thank you.
Staff and students
To whom much is given, much is expected. The College of Education, Ilorin project is a project for all. On this note I plead to all staff to be more dedicated to their job while the students are enjoined to be law abiding and be more committed to their studies.
A WORD FOR THE GRADUANDS
I rejoice with all of you today for successfully completing your studies. Note that your certificate is given having found you worthy in character and learning.  I want to therefore advise you to keep this up so that you can be good ambassadors of this College. Remember that you will always refer to this place as one of the places you passed through.
While many of you will proceed for higher studies, others might want to venture into some other areas of life. Our prayer for you is that you will always meet the favour of God in all your undertakings. May your parents, who invested so much on you reap the labour of their sweat. On behalf of the Governing  Council of this College, members of the  College management, staff and the entire students, I congratulate you all once again and wish all of you best of luck and God's guidance in all your future endeavours.
Thanks and God bless