AN OPENING SPEECH DELIVERED BY THE CHAIRMAN OF THE THE GOVERNING COUNCIL OF KWARA STATE COLLEGE OF EDUCATION ILORIN, PRINCE AREMU A. OLOTA AT THE 18TH COMBINED CONVOCATION CEREMONY OF THE COLLEGE HELD ON WEDNESDAY, 13th  FEBRUARY 2019 ON THE COLLEGE CAMPUS.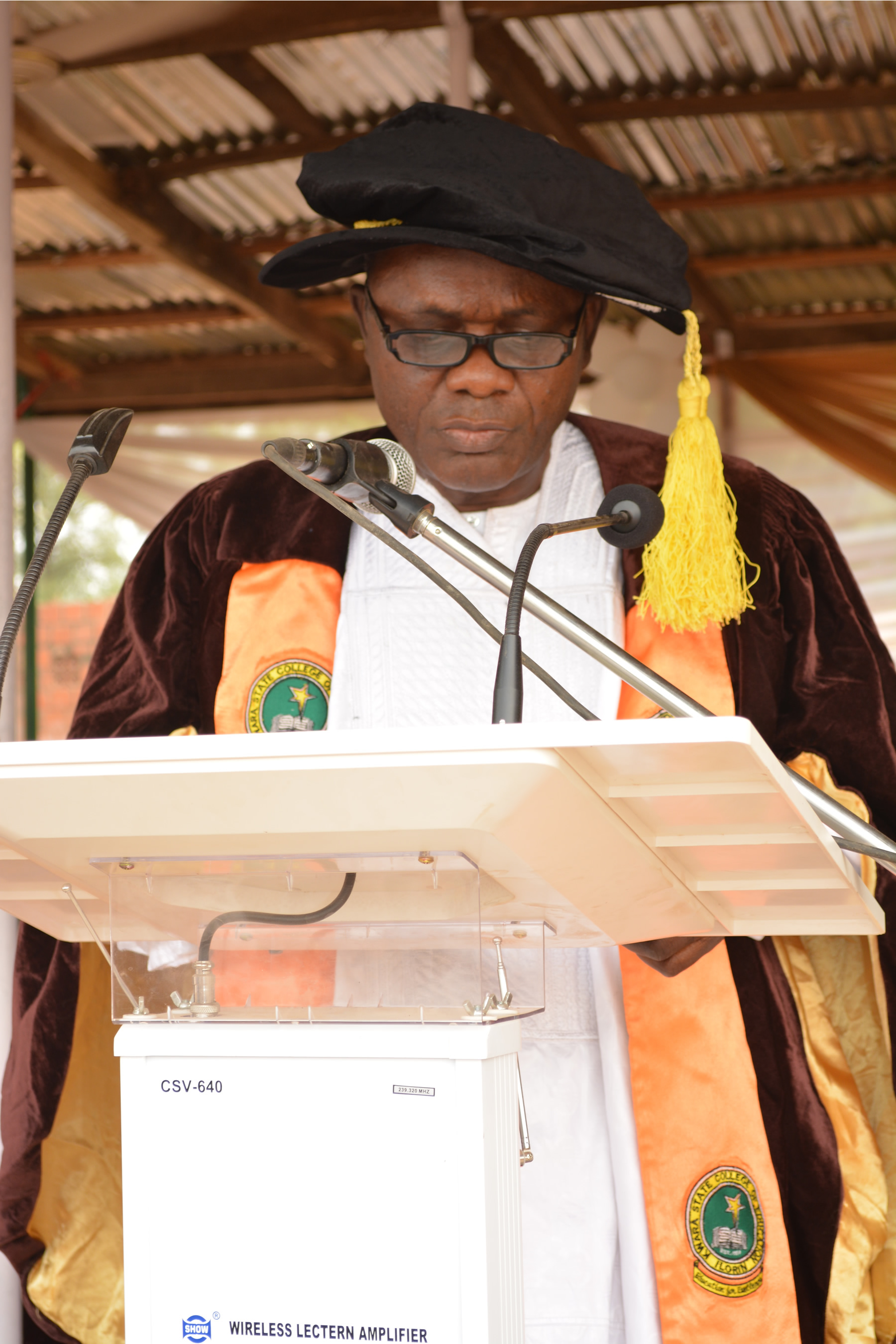 Protocols
Your Excellency, the Executive Governor of Kwara State
Who is also the visitor to the College,
The Hon. Commissioner, Ministry of Tertiary Education, Science and Technology and other members of State Executive Council here present,
The Provost,
Members of the Governing Council of the College,
Member of the College Academic Board,
Former Chairmen of the College Governing Council
Former Provosts and former Principal Officers of the College,
Staff and Students,
Gentlemen of the Press,
Distinguished Guests, Ladies and Gentlemen.
I am delighted this morning to witness the 18th combined convocation ceremony organised by the Governing Council and Management of Kwara State College of Education, Ilorin for the backlog of our graduands who completed their NCE programmes from the college from 1995 to date. I must express my happiness that this epoch event is coming up during my tenure as the Chairman of the Governing Council of this great Institution. On behalf of the Governing Council, Management, Staff and Students of the College therefore, I want to thank the Almighty God for making us part of the history which will forever remains in our memories.
Your Excellency Sir, I must inform you that the Governing Council and the Management of the College decided to hold this important ceremony for our valued graduands with a view to enabling them have that sense of belonging as their colleagues in sister institutions across the country. We also see it as one of our responsibilities to the graduands. At this juncture therefore, I must commend the incumbent Provost, Dr. Abdulraheem Yusuf for taking the bulls by the horns to hold this great event at this material time. The Provost is also commented for the laudable achievements he has been able to record within the sort period of assumption of office as the 6th substantive Provost of the College. May God continue to strengthen him. However, it is our hope and belief that the convocation ceremony we are witnessing today will be sustained in the best interest of the College. It is on this note that I hereby declare the convocation ceremony open as I wish the Graduands happy convocation.
I want to seize this opportunity to thank His Excellency, Alh. (Dr) Abdulfatah Ahmed, the Executive Governor of Kwara State, who is also the Visitor to the College for honouring our invitation. My appreciation also goes to the Hon. Commissioner for Tertiary Education, Science and Technology and other invited important dignitaries who are here this morning to felicitate with us. We say thank you very sincerely and may God bless you all.