Ruth Ogbeifo Balofin Community Project led by Chief Mrs. Ruth Ogbeifo Balofin launched weight lifting in Kwara State College of Education, Ilorin today 30th of June 30, 2021 at the College, which is designed to encourage the participation of students and to also enhance academic excellence.
The acting Provost Dr. Jimoh Ahmed Ayinla in his welcome address appreciated the initiative. He stated that the College would participate as well as contribute to the success of the initiative in order to engage her students in worthy sporting activities so as not to give room for negative vices.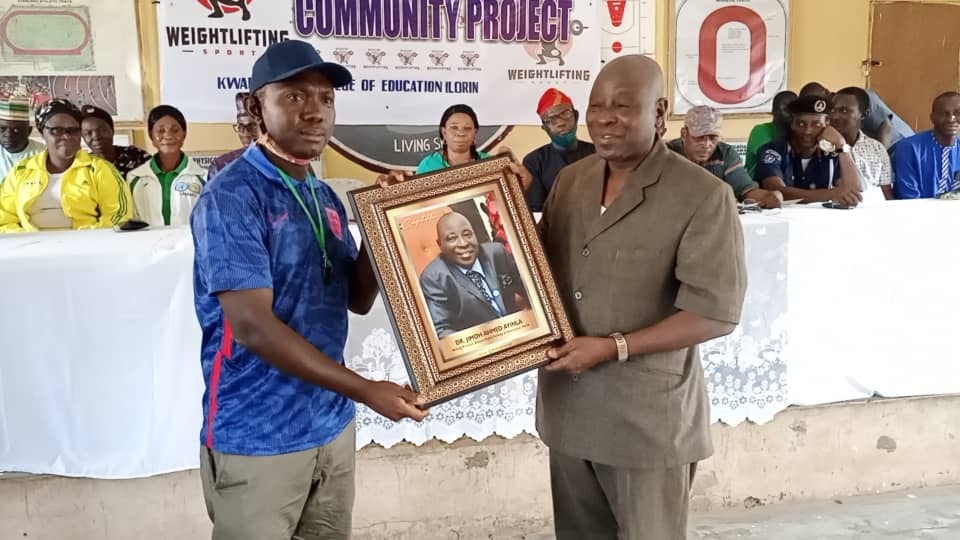 The Executive Director of ROBCOP; Chief Mrs. Ruth Ogbeifo Balofin, who was away outside the country but spoke to the gathering via voice call. In her speech stated that ROBCOP was organized to inspire the young ones and she added that the opportunity would be given to people who really yearn for it. She further stated that the initiative was brought so as to put smiles on children's faces.
Balofin said she is collaborating with Kwara State College of Education, Ilorin because of the interest from the students as well as those in the College environment. She added that the institution has given the initiative a warm welcome inclusively. Further in her message to the students and the sports council, she stated that training and consistency is the key. She added that she would need their support in order to identify potential athletes from Nigeria and not only in Kwara State.
The representative of Director of Sport Kwara State Sports Council, Alhaji Alarape Atanda in his opening remarks stated that what is lacking in our country is adequate training as well as its consistency. He also said that each and every one of us has innate sports ability in us but we have failed to identify and develop it.
He enjoined the students to know how well to manage both their sporting abilities and their education together through good management.
Mr. Femi Olabode the Director of Silver World Consult, Sport Management and Promotion presented an award to the acting Provost Dr. Jimoh Ayinla for being a man of great honour.
Ahmed Adio, former Commissioner for Sport after his brief citation of the Executive Director of ROBCOP Chief Mrs. Ruth Ogbeifo Balofin congratulated the students for having a sports person as their Provost which implies that the sky is their starting point which would give room for them to explore themselves to their fullest.
The veteran sports journalist, Mr. Bayo Issa, popularly known as the "Dean of Sports",  stated that the college is sport friendly and with the acting provost Dr. Jimoh Ayinla at the helm of affairs, they hope sporting activities in the college would change for better.
 Others in attendance include; Deputy Provost Academics Dr. Mrs. Bosede Oyedepo, Ag. Registrar Mr. Abayomi Lawal, Dean School of Science Dr. S.A Adebayo, HOD Sport Yisa Mohammed and other staff of the College.