The Chartered Institute of Public Diplomacy and Management (CIPDM) formally presented an honorary fellowship award of the Institute to the Acting Provost of the College Dr. Jimoh Ahmed Ayinla in his office today.
You will recall that, on Saturday, June 12, 2021, at Millennium Hotel, Fate Area, GRA Ilorin the Chartered Institute of Public Diplomacy and Management (CIPDM) organised a training workshop and induction ceremony for her new members into various membership categories which include; Fellows, Senior Members, Full Members, Associates Members and Graduate Members.
The professional programme topics included; The Relevance of Diplomacy in Crisis Communication Management in Public and Corporate Organization delivered by the Registrar of the Institute Dr. Oyewole O.Sarumi and Developing Administrative and Management Skills in Mitigating Challenges and Issues Through Diplomacy by Dr. Adebola R. Bakare a lecturer from the University of Ilorin.
The Acting Provost Dr. Jimoh Ayinla, who was unavoidably absent from the programme as the guest of honour and honorary Fellow awardee, was absent as a result of an official assignment outside the college.
 He was however formally presented honourary Fellow of the Institute but the presentation of certificate and plaque of honour held in his office today 28th June 2021 by the representatives of the Institute Ms. Adedoyin Adekunle the State Manager and Admission Officer and Mr. Richard Elesho the State Marketing officer.
Forty-seven staff of the college were inducted as registered members of the Institute into various membership categories.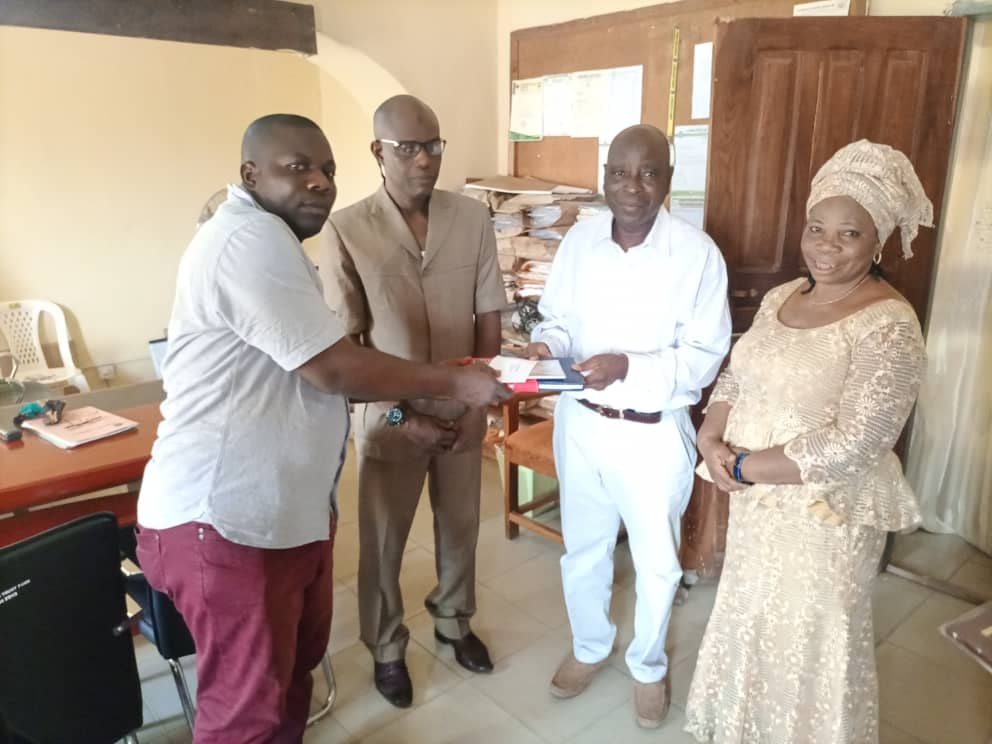 TFrom the center is the Ag. Provost Dr. Jimoh Ahmed Ayinla, to his left is the Deputy Provost Academics Dr. Mrs Bosede Oyedepo, to his immediate right is the Ag. Registrar Mr. Abayomi Lawal a senior member of the Institute and the State Marketing Officer Mr. Richard Elesho.he College PRO Mr Aiyelabegan, a senior member of the Institute and some staff of the College.