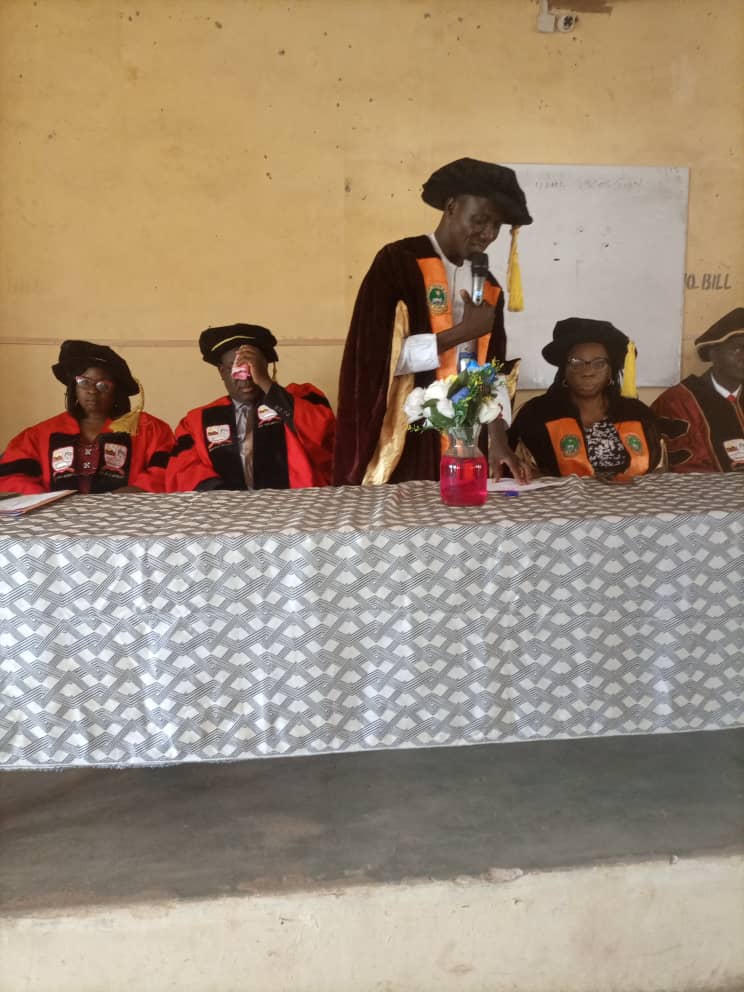 The Ekiti State University, (EKSU) Ado-Ekiti in affiliation with the Kwara State College of Education, Ilorin Sandwich degree program matriculated one hundred and thirty-one (131) students for the year 2021 contact session, at the College multipurpose hall (2) recently.
The Vice-Chancellor of EKSU, Prof. Olanipekun E.O., who officiated the Matriculation ceremony in his address delivered at the venue noted that Ekiti State University is no doubt one of the most sought after universities in the country owing to its pride in academic excellence coupled with the quality of its graduates who have made their marks in various fields of endeavours. Olanipekun added that the recent webometrics ranking rated the University as one of the 16 best universities in Nigeria and the 3rd best State University in Nigeria.
Olnipekun said that the University's mission and vision is to train and produce men and women of honour, equipped with qualitative education, strong character, high level of morality and integrity.
He, therefore, urged the students to shun all acts that are inimical to good conduct, while telling them to desist from any behaviour that could bring their name, that of their family, and the University into disrepute. He added that EKSU has zero tolerance for anti-social behaviour and breach of the rules and regulations of the University. "Appreciate sanctions are always placed on anyone who flouts his or her Matriculation oath," he said.
The VC advised matriculants to be resolute and remain focused on making a huge success out of their academic exploits. In his words, " What is worth doing at all is worth doing well".
In his own speech at the occasion, the acting Provost, Dr. Jimoh Ayinla, admonished the matriculants to be good ambassadors of EKSU and that of the College and their families where they all come from by exemplifying themselves both in learning and characters. He urged them not to involve in any form of anti-social activities that is capable of tarnishing their image, that of the College, EKSU and their families.
The acting Provost said his doors are always open to students who wish to lodge one complaint or another and such will be addressed accordingly. He congratulated them for making the admission list to run different degree Programmes in sandwich education.
The major highlight of the occasion is the administration of the oath of allegiance to the Matriculating students by the team from EKSU, Ado-Ekiti.
The Ag. Provost was represented at the occasion by the Deputy Provost Academic, Dr. (Mrs) Bosede Oyedepo. All the Deans, Directors and HODs were present, including Mrs Sanusi, the Director, Directorate of Undergraduate Studies and other staff from the Directorate.